The Bon Jovi Experience
December 18 | 19:30
£15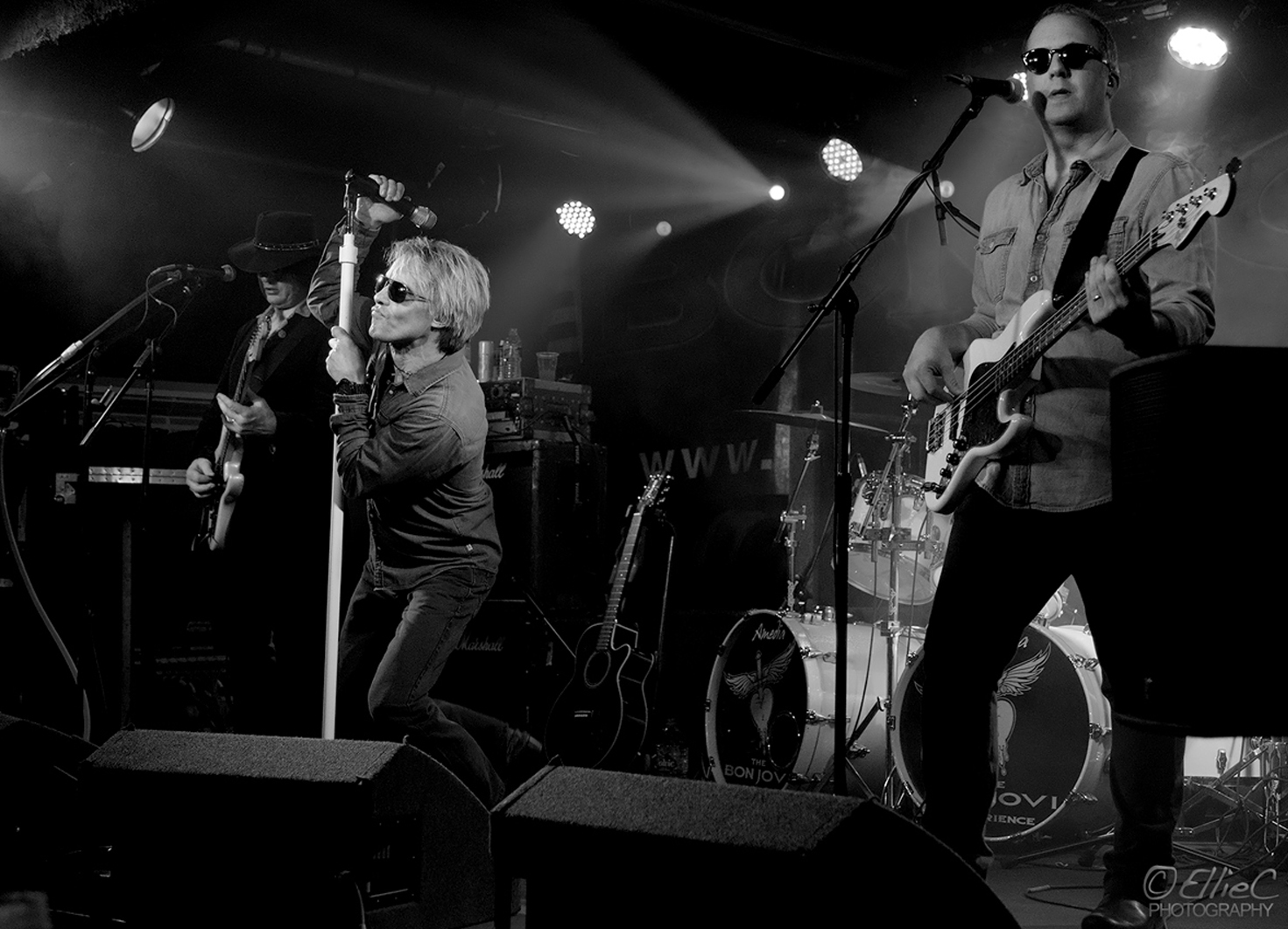 The Bon Jovi Experience
are the world's first and finest tribute to the great Bon Jovi and are the world's ONLY tribute to have been requested by and to have performed live on stage with Jon Bon Jovi himself.
The BJE features Jon Bon Jovi clone frontman Tony (Jon) but unlike many other tributes the great musicians accompanying him are also top look-alikes, Ed (Richie Sambora) – Guitars, Jon (Tico Torres) – Drums, Steve (Hugh McDonald) – Bass and Steve (Dave Bryan) – Keyboards. Individually and as a band they produce the looks and sounds of the real thing so closely that we quote:
"Having The BJE perform here was, without question, like having the actual stadium band in my club"
"The difference between watching the BJE and any other Bon Jovi tribute band is that with other bands you realise they are just a tribute but as you watch The BJE you forget they are a tribute they are just that good".
"You could almost be fooled into thinking that this band was the real thing".
"Quite simply a mirror image of the man himself"
" Have you seen this guy, he looks so much like Jon Bon Jovi, it's freaky man" – Chad Kroeger (Nickelback)
"The best tribute I've ever seen" – JON BON JOVI.
Tony has been performing the music of Bon Jovi for nearly 20 years now and the band were the first to be asked to perform on the US New Jersey tribute album, "Garden State of Mind". He is the only UK Bon Jovi tribute band frontman to actually be asked to appear on Channel 4's Big Breakfast Show with the real Jon Bon Jovi and Richie Sambora.
They were told by BBC Radio 1 DJ and TV personality Chris Evans, that "they were the best tribute band he had ever seen" and were also asked to appear live on Chris' show. The band has a significant fan base not to mention Tony's various TV and film appearances, including ITV's International Stars and their Doubles hosted by Dale Winton, BBC's Doctors and the British film Kinky Boots.
This event date was originally Saturday, 25 July 2020 at 7:30 PM. All tickets remain valid for this performance on Saturday, 17 July 2021 at 7:30 PM.
The Bon Jovi Experience play The Leadmill on Saturday 18th December 2021
Disabled Access
The Leadmill offers a free companion ticket for disabled customers which must be booked in advance. To apply please email ticketing@leadmill.co.uk with proof of disability once a general admission ticket has been purchased.Examples of accepted proof: Disability Living Allowance (DLA) / Attendance Allowance (AA), Personal Independence Payments (PIPs), Blue Badges & The Access Card. We will review an application without the recommended evidence on a case-by-case basis.