With cheap drinks and funky music all being provided by the Leadmill at our Club Tropicana club night , all you need to do now is secure your tiki vibe outfit. I've helpfully made a rundown of the best places to buy your Club Tropicana funky shirts…
First and most obviously is Freshmans. A local Sheffield vintage brand, it is home to multiple rails full of Hawaiian print shirts – as well as being a cave of other gems that you'll probably be less embarrassed to wear out. Helpfully, they also offer 20% off Hawaiian shirts for Club Tropicana nights, when you show your ticket, meaning you have no excuse not to come dressed to impress.
You can find Freshmans located on Carver Street, up from Bunk and opposite Crystal Bar.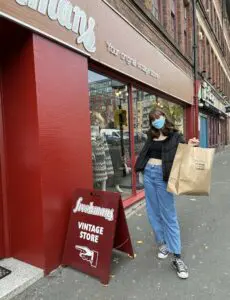 Another local secondhand stocked full of Hawaiian shirts is Ryan Vintage. Super cheap with items from as little as 50p, this one is perfect for those on a major student budget but may take a little more digging to find the perfect funky shirt for you. With millions of rails chaotically covered in retro bargains waiting to be stumbled upon, definitely don't leave it last minute to get your shit shirt from here. 
Ryan Vintage is also handily located in the city centre, just along West Street.
facebook.com/thriftystoresheffield/
Thrifty Store, having semi-recently reopened, definitely deserves some local love. And regularly hosting major discounts, I don't know why you'd go anywhere else. You can even get an extra 15% off if you're a Uni of Sheffield Fashion Soc member or take part in their brand-spanking-new loyalty scheme – gain 15% off on your 5th purchase or you could even claim £10 off your 10th purchase. Covering two floors, Thrifty is chocked full of finds so it shouldn't take too long to find the best shirt for you. Also perfect for hungry shoppers, this store is located just down from both a Greggs and McDonalds – happy shopping!
Thrifty Store can be found on King Street, next to the National Video Game Museum and just before Kommune.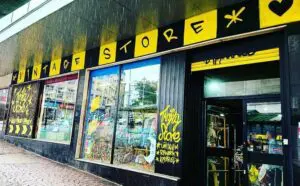 Sheffield is full of fantastic places to sort your Hawaiian shirts out so bag your ticket here, we'll get the DJ and decor ready and we'll see you on March 22nd!
Written by Emily Duff.
Don't forget to follow Club Tropicana on Instagram too!