CHILDCARE (Yellow Arch Studios) *New Date*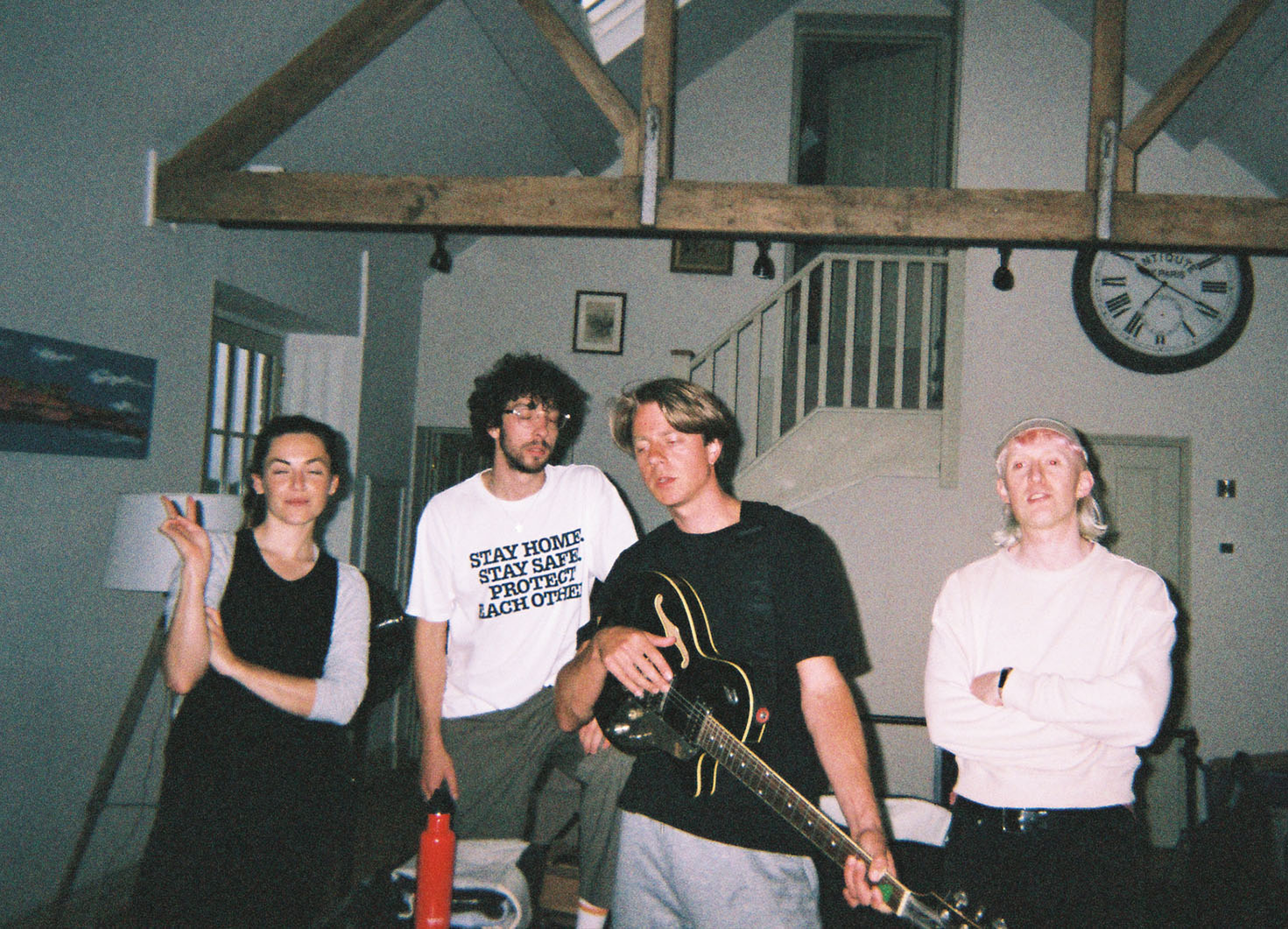 This CHILDCARE date is a rescheduled show that was originally due to be held on January 15th 2022. All original tickets remain valid for this new date.
These are some of the big questions CHILDCARE find themselves pondering at the top of their second album 'Busy Busy People';
Is the juice worth the squeeze?
Is the honey worth the bees?
Is the trip worth the risk?
Is the rub worth the fleas?"
These are some of the big questions CHILDCARE find themselves pondering at the top of their second album 'Busy Busy People'.
It's a mantra that returns later in the record but remains in the back of your brain throughout, a playful enquiry into the purpose of our everyday activities that highlights the South London-based group's knack of marrying the surreal with the ordinary; soberly tripping out during the big shop.
It's something the group have been refining as part of their identity since their genesis, when singer Ian Cares spent the time between school runs at his nannying job writing songs.
He started adding other musicians to the project gradually until two EPs (2017's 'Made Simple' and 2018's 'Luckyucker') and one album (2019's 'Wabi-Sabi') later, Ian, guitarist Rich Le Gate, bassist Emma Topolski, and male drummer David Dyson have shaped CHILDCARE into one of the most unique emerging groups in the UK.
They've earned themselves a loyal following of fans, sold out their biggest show (so far) at London's Scala and gained support from BBC Radio 1 (Annie Mac, Jack Saunders), Spotify (several New Music Friday slots) and five SXSW 2020 showcases, which of course, never happened.
Over the years, they've fine-tuned what CHILDCARE is all about and served up a recipe that's both familiar and like nothing you've ever tasted before.
"Call it a pasta with an arrabbiata sauce but with something on top, maybe mandarin breadcrumbs," suggests Ian. "What we're trying to do is to expose a bit of the mundane psychedelia everyone drops into while living their lives," adds Rich.
"there you are grating some cheese and you find yourself considering how tiny versions of your relatives would pass through the grater, not in a mean way, just physically considering the capacity for that to take place."
On their debut album 'Wabi-Sabi' CHILDCARE presented songs about self-improvement and self-acceptance. Around its release, they entered the lexicon of wellness, deploying post-yoga wellbeing events and facilitating unique group meditation seminars in support of the record.
This time around, they're putting something more universal on the chopping board – what people do. 'Busy Busy People' – which was recorded at Somerset's 'Distiller Studios' with producer Dom Monks (Laura Marling, Big Thief, White Denim) – is a curious and imaginative collection. Fruit and vegetables sprout up through the record's lyrics, while the group take everyday objects and elevate them into something more unusual.
"Feeling kind of shaky," Ian sings on the centrifugal 'Rhubarb', "Oh, I'm shook up like a Fanta can." There are uniquely British references littered throughout – a one-minute ode to TV fashion guru Gok Wan, a request to ex-professional footballer John Terry, a command to "put aside Brookside".
"It's a reflection of me," Ian says of his distinctive songwriting style, which he describes as coffee table surrealism. "I'm telling these stories about the things I come across, but the way they come out is not dramatic and over-the-top because I'm not a dramatic and over-the-top person.
If I have an argument with my girlfriend I'm more likely to write a song about how our carpet had to deal with the slight increase in foot pressure and contact than pouring my heart out about our relationship.
It's about using everyday objects and situations to hint at what might be going on around us or behind the scenes – what we can't always see and understand."
The resulting songs offer stories about disappointing trips to gong baths (the whirling pop of 'Karaoke Mantra'), the secrets we all try and keep from those around us ('Little Secret') and the Christmas Carolesque, 21st century dream sequence 'Theme from Squeeze', in which you are introduced to a wide cast of characters, including Mike Tyson, Mary Berry and Nancy Pelosi. In the spiky, marching 'ANTs' – named after the psychological term Automatic Negative Thoughts – the group are trapped in a cycle of dark thoughts, anthropomorphising them as insects crawling through their heads.
While writing these inventive tales, Ian interviewed friends over dinner and recorded conversations with them over the phone. He gathered stories from these conversations and used some of them from his school friend, the photographer Debbie Scanlan, to break up the music with.
As tracks end and others wait to begin, she shares tales of going to the gym and the sweet-sickness of orange juice. Ordinary, everyday things made more surreal – just like the songs they punctuate – for being presented out of the context of their conversations.
'Busy Busy People's unusual streak isn't just confined to the album's lyrics. Musically, it draws on all of the band's influences, blending motown vocals and post-punk swagger with chickenpox guitar and drums. It ranges from '154' and its prowling Chicago house bassline to 'Almost', a sparse, slow-building jam that climaxes in a chainsawing solo.
Throughout the album, each members' vocals are used to create texture and harmonies, appearing in the background like church bells and call centre ambience.
"Where others might turn to a sampler or use another layer of an instrument, we go 'What can we do with vocals there to lift this?'" explains Rich, who as a point of principle, boycotted the playing of any chords on the album.
Although 'Busy Busy People' isn't CHILDCARE's first album, the group say it feels more like one to them than 'Wabi-Sabi' did – a cohesive, intentional collection that represents who they are and where they're heading. With an album as fresh and fruity as this one under their belts, the award for 'best album of the year to reflect everydayness through keeping secrets, cooking and Gok Wan' is bound to be on the menu.
Disabled Access
The Leadmill offers a free companion ticket for disabled customers which must be booked in advance. To apply please email ticketing@leadmill.co.uk with proof of disability once a general admission ticket has been purchased.Examples of accepted proof: Disability Living Allowance (DLA) / Attendance Allowance (AA), Personal Independence Payments (PIPs), Blue Badges & The Access Card. We will review an application without the recommended evidence on a case-by-case basis.