Bring Me The Horizon Special
August 12, 2022 | 23:00
£6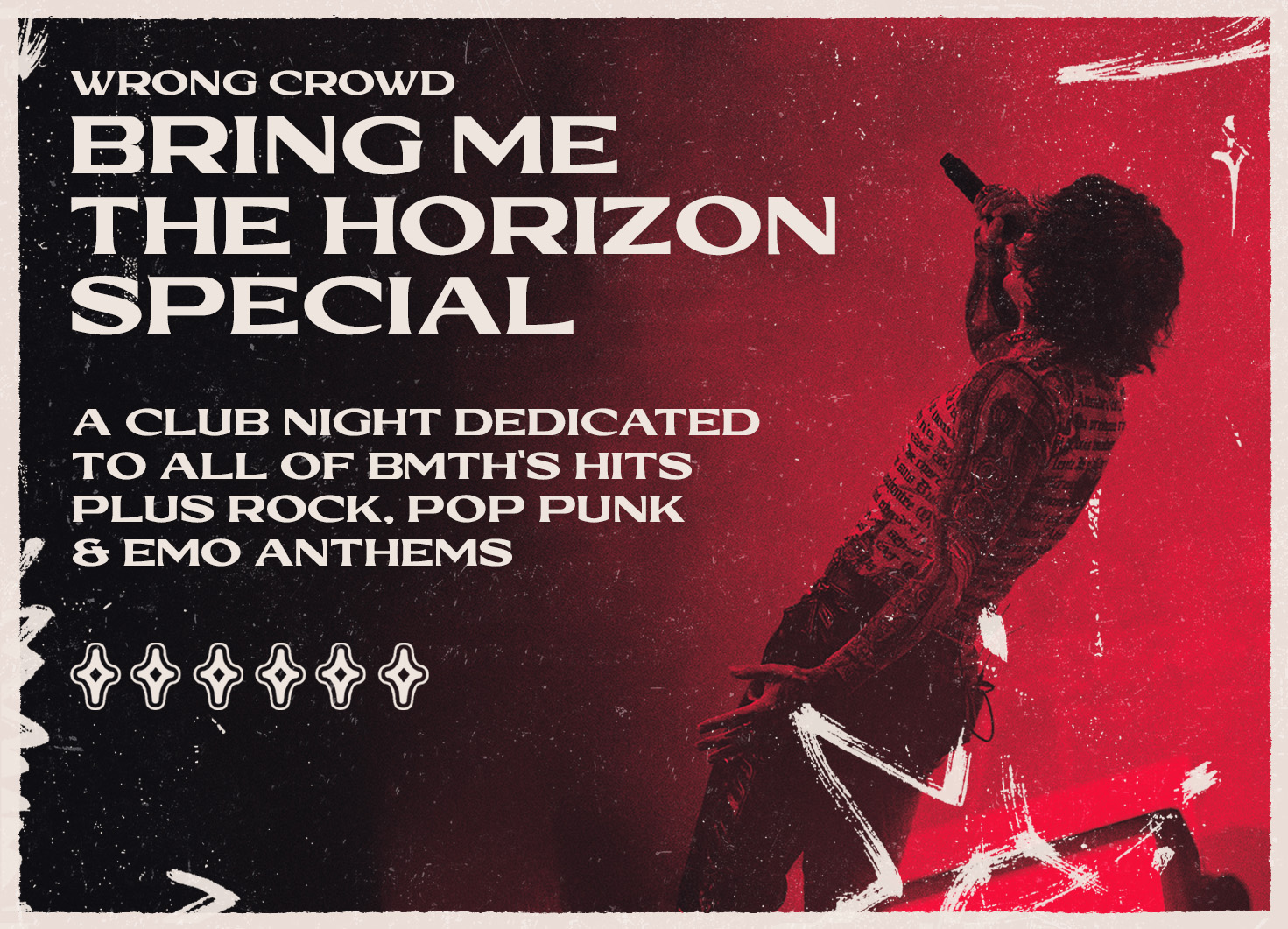 After a sell-out seated event during lockdown, we're dedicating a whole club night to the heavy hitting music of Bring Me The Horizon! 🔥
We will be joined by resident DJ Liam playing all of the biggest Bring Me' hits, alongside throwback classics and a high energy mix of pop punk, rock & emo anthems.

If you've been to WRONG CROWD before then you should already know what to expect, but if you haven't it's time to get ready for chaos.
At this club night, moshing, crowd surfing and letting loose is highly encouraged, so leave your inhibitions at the door and get ready for a singalong.
Plus as always our drink deals will be ridiculous, including –
80p Vodka Mixers, £1.50 Doubles, £2 J-Bombs and our famous £5 Rounds (1 x Vodka Mixer, 1 x J-Bomb, 1 x Cheeky Vimto & 1 x Shot, all for a fiver)*
We'll also be bringing back our special themed drinks, including the heavily requested Alligator Blood & Kingslayer cocktails.
Expect to hear –
Bring Me The Horizon / Architects / Neck Deep / While She Sleeps / Nova Twins / Enter Shikari / My Chemical Romance / Beartooth / Yungblud / Trash Boat / Pierce The Veil / Sleeping With Sirens / Stand Atlantic / Evanescence / You Me At Six / KennyHoopla / Electric Callboy / Willow / Asking Alexandria / A Day To Remember / Machine Gun Kelly / Babymetal & more…
========================
This is an 18+ club night event.
*All drink deals mentioned are subject to the ownership of a Leadmill Regulars Card, available behind the bar for only £4 and valid for a whole year.
========================
Have you got a birthday coming up on the week of this event? Drop us a message on Instagram @wrongcrowdsheff to find out about our special free birthday treats we can offer you and your friends.
==========================
Did you know… We are Sheffield's longest running nightclub and music venue! Click our History page to find out more about the venue.