A Reyt Queer Extravaganza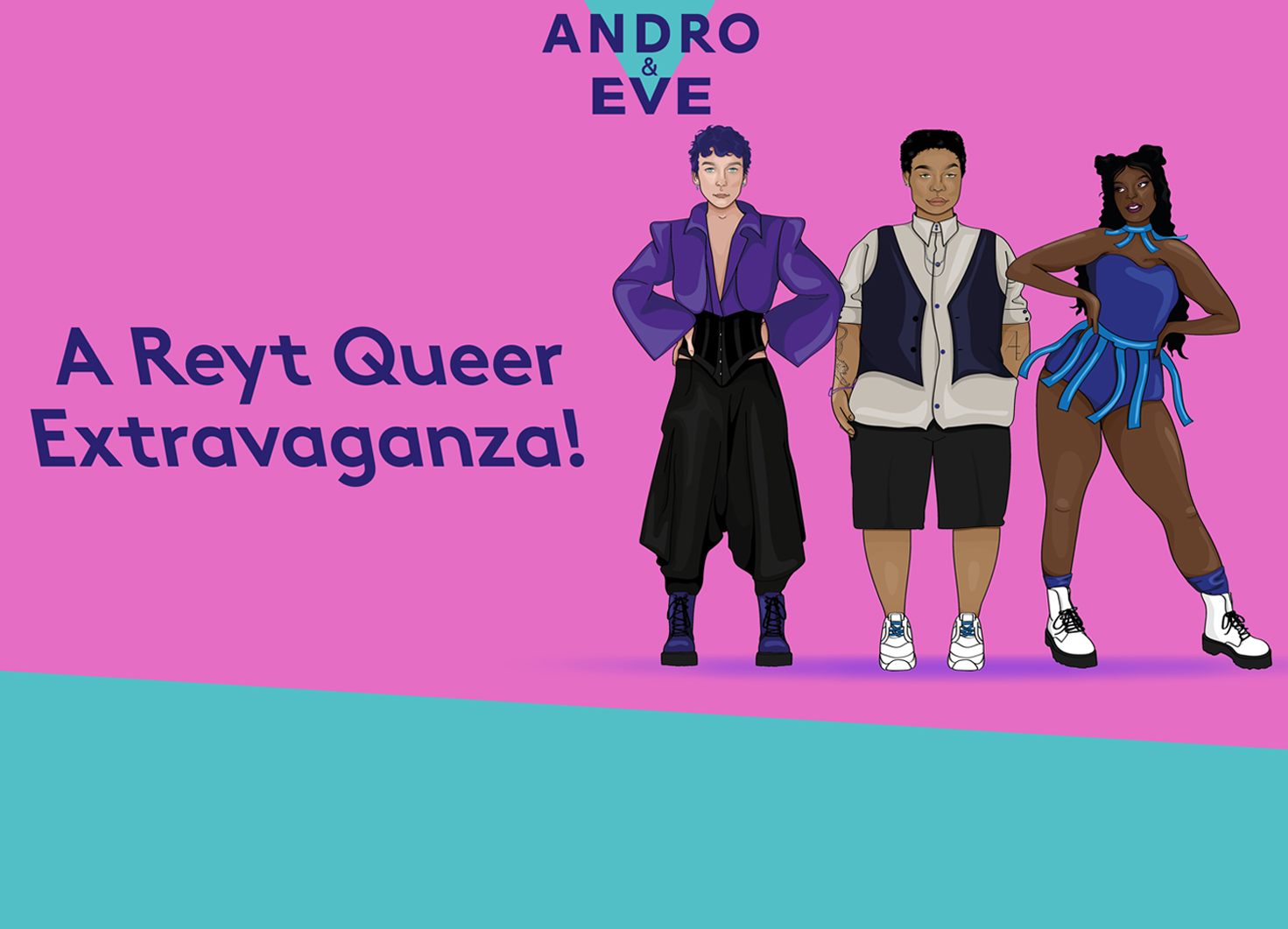 Andro & Eve and Ghetto Fabulous are collaborating on a huge night of queer performance!
Get ready for a night like no other with queer performance from across the North of England, hosted by Rikki Beadle Blair.
Gag on the lewks, the lip-syncing and go crazy for the choreography. Community participants, professional queer collectives and fierce individual performers from across the North, will take to the catwalk for this very special event at Sheffield's iconic venue The Leadmill.
Put on your most extravagant party lewks, whatever that means to you, and come celebrate in the queer joy!
SCHEDULE
6.30PM – Doors
7.30PM – Show starts
10.30PM – Show Ends (there will be a 20 min interval)
If you would like to be part of the event in one of our South Yorkshire Collectives, find out more about our Feeling Fabulous workshops here.
TICKETS: £20 adv / £25 otd. Early Bird discount available at £16. Sliding Scale tickets from £5. Order limits apply.
Our sliding scale pricing is designed to help make our events accessible to everyone. Please see the guide below and select the right ticket band for your financial situation. Find out more about our ticket model here. (More detailed descriptors are listed).
You can donate to support the work of Andro and Eve by purchasing a 'SOLIDARITY TICKET' if you have the financial means to do so. All donations help us provide free and cheaper tickets to those who need them at future events. We give free tickets to refugees through our partners.
ACCESSIBILITY
The Leadmill has level access and disabled toilet. Wheelchair spaces and seating can be reserved. All gender toilets will be provided. BSL interpretation will be provided for all performances. A quiet space for those with sensory processing issues or those who just need less stimulation for a bit, will be provided within the event (away from the main performance space).
There will be limited seating for this event, priority will be given to those who request this via our access request form (see below).
The Leadmill is in the city centre 5 mins walk from Sheffield train station and with good local public transport links nearby. All performance will be done by 10.30pm should you need to leave to catch a bus / train. Specific COVID guidance is below.
If you are in a wheelchair, need access to seating for the performance, or have any other access requests we would ask you complete our access request form here.
PARTY PALS – New for 2022!
We realise that sometimes, you want to attend an event but for whatever reason, you're flying solo but you'd rather have some pals to meet! Thats where our new scheme Party Pals comes in!
You can get involved by simply completing our Access Form and asking to be part of the Party Pals scheme. Then you'll need to arrive by 6.45pm on the night, and we'll invite you to join our dedicated Party Pals space (which will be in the main space) so you have the chance to meet other folks. Our friendly volunteers will be on hand to make introductions. To take part please complete our access request form here.
Please also remember to bring some cash. We're keeping it retro. Tickets for our AMAZING raffle are only available to buy with cash!
We are taking extra precautions to manage the risk of COVID-19.
We ask everyone attending this event to bring a mask to wear when moving around the venue. The Leadmill is a well ventilated venue.
We are limiting capacity to manage air quality. Hand sanitiser is provided.
We ask everyone attending this event, if possible to take a Lateral Flow Test on the day of the event.
However, we will not be checking proof of negative test on the door. We would ask that you help us take responsibility for the care of our community by following the protection measures set out below.
If you have any symptoms of COVID-19 such as sore throat, continuous headache, dry cough, runny nose, loss of taste of smell, or high temperature, or have been in close contact (longer than 20 minutes in a room) with someone who has tested positive for COVID-19, we ask that you do not attend.
IF YOU DEVELOP SYMPTOMS OF COVID19 AFTER THE EVENT, please email us at hello@androandeve.com and mark it 'URGENT' . This way we will be able to contact all who attended the event.
We will enable a waiting list for this event in order that spare tickets can be released for those self isolating. We will only issue refunds in the case of self isolation after the 25th July.
Ghetto Fabulous is an arts company whose main aim is to spread Queer Black Joy as a form of resistance.Through all the work Ghetto Fabulous does whether it is theatre, dance, visual arts, personal or political work, they aim to excite and entertain.
Andro and Eve are a queer arts organisation based in South Yorkshire. They create memorable events to celebrate queer culture where everyone is welcome. Their programming is focused on voices otherwise marginalised, to reflect and celebrate the diversity that exists within the LGBTQ+ community.
SAFER SPACES: Andro and Eve operates a safe spaces policy. By booking a ticket to either of these events you agree to follow the practices outlined. Find out more here.
For more information see our FAQ's.
Photography
We will have a photographer and filmmaker present at this event. Photos and video captured will be used to document the event and may be displayed on our website, social media and in online communications. If for whatever reason you do not wish to be photographed, please let one of the Andro and Eve team know and we'll make sure our photographer keeps you out of photos.
We ask that you do not take photos of anyone you do not know (except the performers), or make film recordings of the crowd / general event. This is to protect everyone in our space and safeguard their identity and location. Further guidance can be found in our Safer Spaces policy.
This event has been made possible through funding from Arts Council England and The Civic, Barnsley.