🎅 Merry Makers Mill 🎄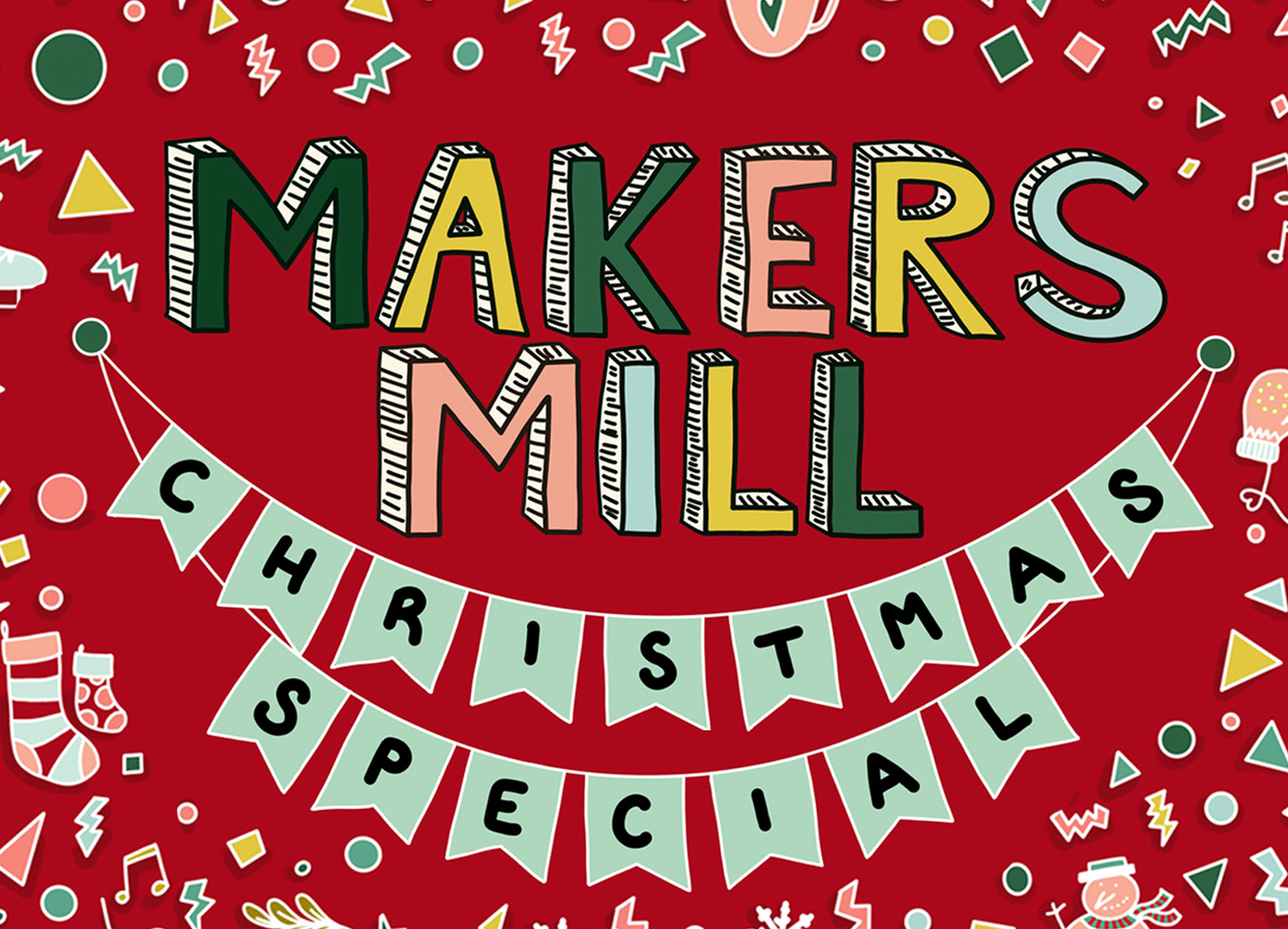 We are so, so thrilled to invite you to our second edition of Makers Mill… and this time, we're going Festive!

We'll be providing an afternoon of fantastically varied crafty activities, tasty drinks, joyful Christmas spirit and relaxed music within a friendly, cosy atmosphere. 
Expect supreme hot chocolates, delicious mulled wine, Christmas spiced cocktails, heavenly festive snacks to accompany three introductory sessions from a selection of Sheffield's most creative Makers, who will be teaching you the basic skills needed to take on what could become your new favourite hobby! 
Each of our Makers will deliver a 45 minute session and we will provide you with all the materials needed to make your item, plus a Leadmill tote bag to take it all home in! This time round, we've made sure to choose activities that will make the perfect gift or festive accessory for your homes. 
The exciting line-up consists of:
Paperbased Workshops –

Create a beautiful mini Christmas wreath in seasonal winter flowers to decorate your home this festive season!
In this workshop you will learn how to make paper flowers using recycled paper, card and wire.  You will be shown how to create a range of flowers and leaves perfect for Christmas.

This workshop is run by Paperbased which is taught by experienced paper artist Kim Bevan, she provides workshops for all ages in and around Sheffield.  In her own practice she makes artist books which play around with 3D sculptural folding techniques and she creates artwork using paper cutting and printmaking.
Upsydaisy Craft – 
Air drying clay tea light holder
Each participant will be shown how to make a simple pinch pot from air drying clay, this will be designed with a festive feel ready for your tea light candle once dry. You will be able to take this home to dry fully and paint at your leisure with whatever paint is available to you (pens/acrylic/household emulsion or even nail varnish!)
Nat is a ceramicist working from her home studio in Sheffield. After qualifying in 2004 with a degree in crafts specialising in ceramics she continued to practice ceramics whilst working full time in various offices. Upsydaisy Craft is the business Nat runs from her home studio, creating colourful and playful ceramic jewellery, pots and artwork. With a passion for showing others the mindful and creative fun that can be had with clay she has been running workshops for the past 7 years this air drying clay workshop is a great introduction. Nat will show you the pinch pot method to create a festive tea light holder ready to take home and paint once dry. Check out Nat's work at www.upsydaisycraft.com or Instagram @upsydaisycraft
Joy De Weave hosts 'Macrame Christmas Ornament'- 
Shalini, the founder of Joy De Weave, is a self-taught macrame artist and weaver. She takes inspiration from the Indian style of weaving and enjoys weaving everything from decorations to furniture. She discovered macrame as a form of active mindfulness and finds it works wonder for easing stress and anxiety. She delivers macrame workshops in and around Sheffield, as well as virtually through DIY macrame kits. During Shalini's workshop, you will be guided to create your own macrame Christmas decoration, as well as develop the skills to use the same technique on a variety of different projects after the session. Perfect for complete beginners. Follow her on @JoyDeWeave . DM for enquires or questions. 
Tickets are sold per person and this includes all 3 crafty sessions and the materials! Times will run from 2pm through to 6pm with breaks. We'll have cake, Christmas cocktails, drinks, music and the venue set up so that you are warm, relaxed and cosy whilst learning some new tricks alongside others.For any questions, please get in touch with us on information@leadmill.co.uk
Disabled Access
The Leadmill offers a free companion ticket for disabled customers which must be booked in advance. To apply please email ticketing@leadmill.co.uk with proof of disability once a general admission ticket has been purchased.Examples of accepted proof: Disability Living Allowance (DLA) / Attendance Allowance (AA), Personal Independence Payments (PIPs), Blue Badges & The Access Card. We will review an application without the recommended evidence on a case-by-case basis.