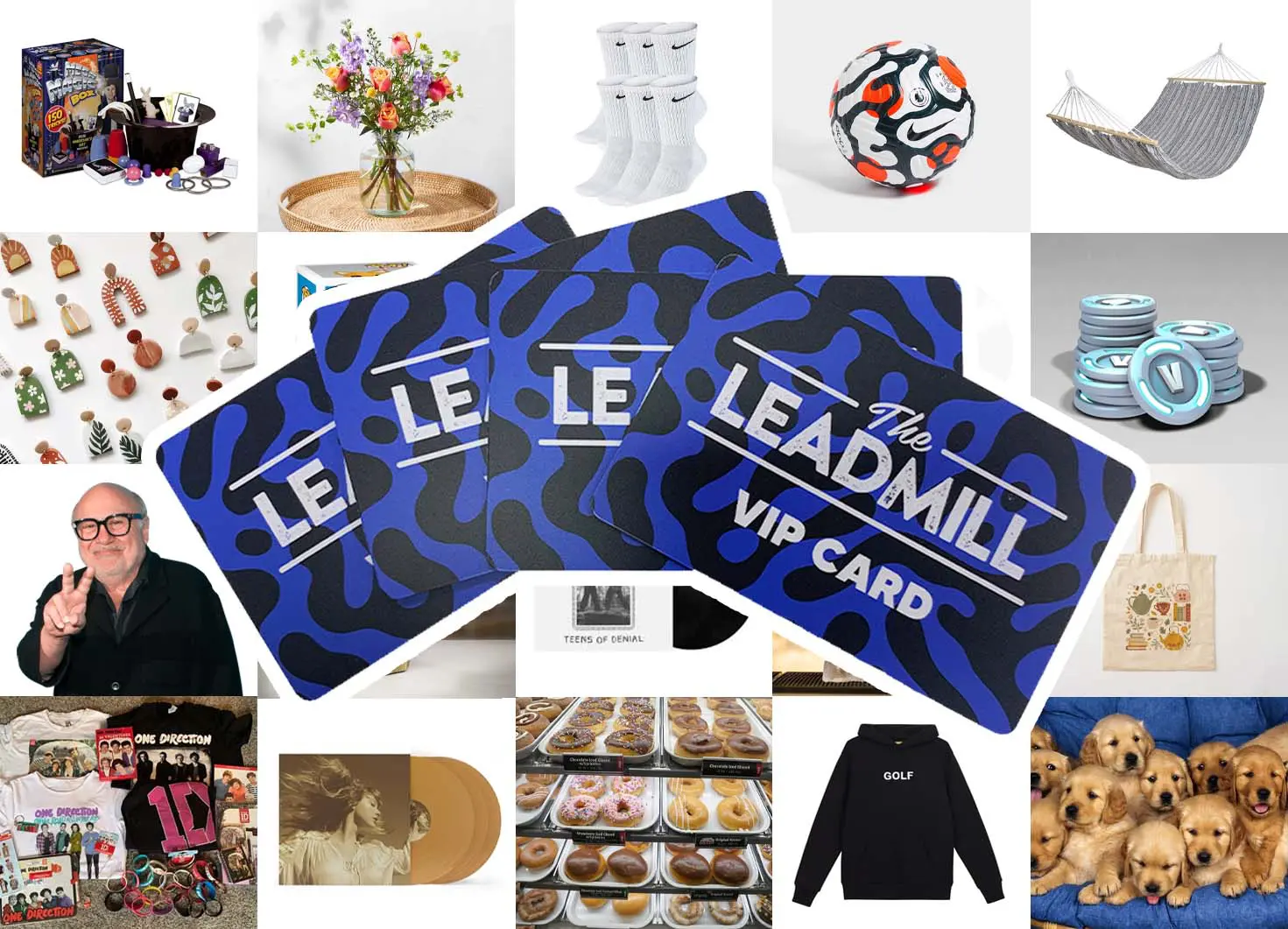 That time of year has come around once again that we give you all the chance to win one of our widely sought after VIP Cards!

Ever dropped us a cheeky DM at 4am trying to blag one after a few bevs? Maybe you just want to skip the queue every single weekend? Well now's your chance to be the envy of all your pals.
Why should you get involved? Well, our VIP Cards will grant the owner, free entry to ALL of our club nights until August next year, plus queue jump for them and 5 friends. So it's quite a saving for the Leadmill regulars amongst you.
How can I get one, we hear you ask? Well, by bribing our staff of course.
All you need to do is come to The Leadmill with one of the items below from Monday-Friday 11am-5pm. We'll update this page as soon as each request has been fulfilled.

We've got loads of staff, meaning there's plenty of opportunities to take home the goods. So…
Beth our Brand Co-Ordinator has just moved house, so would like some artwork by a local artist to proudly display on her wall.
Red our Comedy & LGBT+ Events Promoter would simply like this Tails (From Sonic) Funko Pop Vinyl.
Frazer our Promotions Assistant, is a dedicated vinyl buff so has asked for a copy of Fearless by Taylor Swift to add to his collection (original or Taylor's version will do!).
Jacob our Creative Media Co-Ordinator, would like some new garms. In particular something from the Golfwang website (Size M).
Charl our Event Promotions Supervisor is the absolute queen of funky earrings, so would like a selection of hand made clay earrings to add to her collection! Just nothing too oversized though, as "she's only got a small head".
George our Events Promoter, is the ultimate One Direction superfan so would like a nice Harry Styles / 1D themed gift, but not a cardboard cut out please! We only have so much space in our office.
Ian our General Manager, loves magic, so would like a good box of magic tricks and a cape! No cape, no card unfortunately. We don't make the rules, he does.
Chris our Head Of Operations, loves a bit of rock, so has requested a copy of Aqualung by Jethro Tull on Clear Vinyl.
Dan our Senior Engineer, would like a nice comfy hammock for his garden to enjoy the nice weather we've been having this November.
Niall our Cellar Manager, is a gaming fanatic, so would like 7500 PSN Fortnite V-Bucks so he can crank 90s in style!
Matthew our Box Officer, is usually first in on the mornings, so has asked for a lifesize cut out of Danny Devito to keep him company.
Mimi our Promotions Apprentice, would like a black Carhartt beanie to keep her head warm through winter.

Millicent our Events Promoter, would like a new tote bag from a local Sheffield designer, shop or artist to help her save the planet in style.
Matt our Engineer, is a whizz in the kitchen so is after a Sabatier knife for his new flat.
Toby our Stage Manager, would simply looooove a copy of Teens Of Denial by Car Seat Headrest on Vinyl.
Paul our FOH & HR Manager, is after some colourful craft beers, the more hipster the better.
Rose our Head Of Programming, would like some lovely flowers for her desk. So no petrol station pansies please!
Liam our Marketing Manager, needs some new socks before he gets some for Christmas from his mum, so would like absolutely loads of white Nike socks (Size 11 please!).
Ben our Live Promoter, is keeping it simple. He'd like a shiny new football to practise his skills with.
Plus we've got a few general office requests that we can all enjoy –
A cocktail masterclass for our office.
A surprise visit from loads of puppies (They must be puppies and there must be loads).
A Krispy Kreme picnic for the entire office, including the fancy milkshakes that they do now.
A pigs in blankets buffet (There's a lot of us and we LOVE pigs in blankets so there would need to be a lot!).